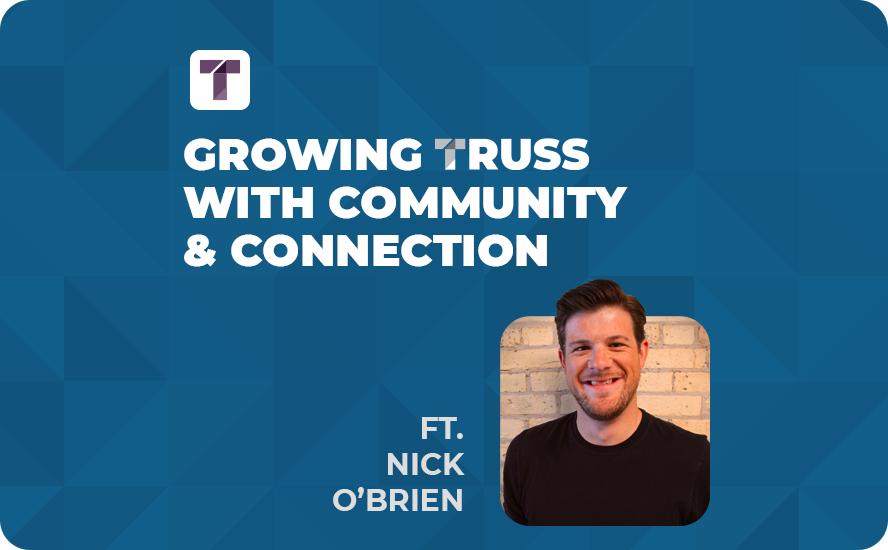 Hear from one of the newest members of the Truss team, Nick O'Brien. He joined the team to help with business development and we are excited he decided to join us!
Where did you grow up?
I grew up on a gravel road in rural northeast Missouri. The town I lived in (Durham) is so small that it doesn't even have a population sign. While I didn't know it at the time, I was raised and went to high school and college not far from where TRUSS's managing director, Julia Collins, grew up. Small world!
Why do you call Milwaukee home?
Milwaukee is the biggest city I've ever lived in. After living in three other Wisconsin cities (which I also loved), I call Milwaukee home for a few reasons:
The people make it feel that way
There is a culture of gathering, people want to hang out and celebrate pretty much everything
The strong culture of art and music
There are so many opportunities to meet and engage with different kinds of people and cultural assets
There are so many opportunities to make a difference in the Milwaukee community
It has all of the elements of a much bigger city, while maintaining a small town vibe and affordability
I love Lake Michigan and all the things there are to do on the lakefront (events, walking/running/biking, relaxing on Bradford Beach, etc)
What is your background and career thus far?
My career started in the TV broadcasting industry, which is what brought me to Wisconsin almost 10 years ago. For my first 2-3 years in Wisconsin, I was a TV sports reporter and sportscast anchor, which included covering the Green Bay Packers, Milwaukee Bucks, Milwaukee Brewers, and the Wisconsin Badgers sports teams.
After taking a step back from TV in 2015, I landed in a role with a Chamber of Commerce where I managed a young professionals initiative aimed at engaging, attracting, and retaining young talent to the community. This role is when I started to realize my dual purpose for my life and career – to connect people to people, people to places, and people to potential – which has since turned into a career of professional community building as an economic benefit to a region.
I've done this work with all kinds of clients and partners, particularly with economic development firms, city and state government agencies, non-profit organizations and for-profit businesses, etc. I've built communities of creatives (musicians, artists, entrepreneurs), and since 2018 most of my community building work has been focused on startup founders. That work has included founding and building out multiple initiatives across Wisconsin (Startup Eau Claire Week, CoLab, The Surge, Milwaukee Founders Community), which are focused on improving regional startup ecosystems with the voice of founders at the forefront.
In 2021, I co-founded a technology startup called WorkAround, which will soon offer a mobile app designed to connect people to places for them to work remotely and likeminded people for them cowork with. In addition, I also work with a music business to help it build and engage a community of independent musicians from around Wisconsin. As part of that work, I also host a music industry focused podcast on which I interview musicians about their career, lessons learned, songwriting, etc. Overall, my career is focused on engaging people who are trying to create and build something new, forming relationships with them, and connecting them to the people and resources they need to achieve their goals.
How did your career in tech begin?
The entry point to my career in tech began when I recognized the gaps between startup founders and the resources they needed to move forward. As a natural connector, I felt empowered to help founders get connected to people, places, and resources they needed to know about to strengthen their projects and businesses, which required learning more about the founders' tech-enabled products and services. When I moved to Eau Claire, Wisconsin in 2018, I immediately jumped into action to help that region's startup founders and the regional ecosystem as a whole.
Through early connections and conversations in the first couple of months of living in Eau Claire, I decided to create and lead the region's first Startup Week in collaboration with several other cities around the state as part of Startup Wisconsin Week. While I didn't know too much about tech at that time, I learned more and more as I continued to engage and form relationships with tech startup founders.
That learning continued in 2019 when I was hired to lead the community building, programming and partnerships for a project in Sheboygan, Wisconsin that aimed to create an innovation district in the city for innovators, technologists and entrepreneurs. That project provided me access to both corporate innovation professionals and tech startup founders, which proved to be significantly informative to my tech/innovation knowledge. Since then, I've worked almost exclusively with tech founders and my tech knowledge and experience has greatly benefited from it.
Why did you choose to join Truss?
There are a few reasons why I felt TRUSS is a great fit for me:
My passion and purpose for helping entrepreneurs get connected to what they need. In TRUSS's case, it's helping founders find and hire tech talent more quickly and affordably than they can do if they are only looking for talent in the U.S.
The TRUSS (and Lincoln Labs) team is full of awesome and collaborative people who share the same passion I have for helping people achieve their business goals. As soon as I met and talked with Julia Collins about TRUSS, I knew it was an effort I wanted to help build and be part of.
Through my startup community building work across Wisconsin, I have developed a strong network of founders and resource providers, which I believe is valuable to TRUSS's efforts to establish a strong presence in Wisconsin's startup ecosystem. It made complete sense to share my network with TRUSS because of the company's focus on helping founders, businesses, and resource providers reach their goals with high quality and affordable tech talent, which benefits the greater startup ecosystem and the economic prosperity of the geographic region(s) TRUSS's customers are in.
What are some of your hobbies?
I'm a big fan of live, original music so I'm frequently attending concerts and other events with live music. As a people person who enjoys building and strengthening relationships, I'm often hanging out with both new and old friends. I also enjoy reading books, listening to podcasts, learning and talking about philosophy, meditating, running/biking, basketball and other team sports, and traveling to/experiencing new cities."
Favorite snack?
Hmmm…that's a great question. I really like food, so to choose one favorite snack is tough. But in true Wisconsinite culture, I'll say that any kind of cheese (particularly cheese curds) is my favorite snack.
Favorite restaurants or bars in Milwaukee?
I think Milwaukee has an outstanding restaurant and bar scene, so this is another tough one to answer. I'm a big fan of the craft beer from Eagle Park Brewing Company, and the taproom is right across the street from where I currently live, so that's probably my favorite spot to have a couple beers. There are too many great restaurants in Milwaukee for me to choose just one as a favorite, especially since I prefer to try new restaurants rather than going to the same ones over and over.