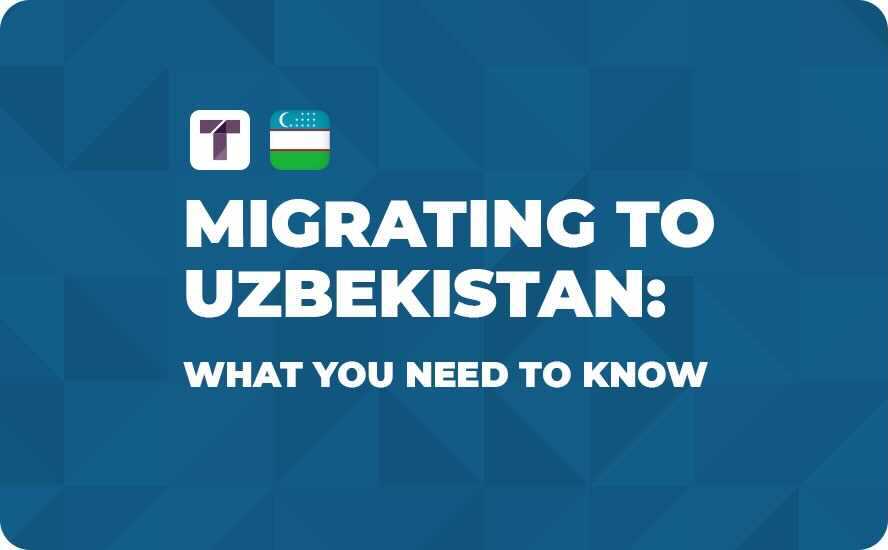 The Russian-Ukrainian crisis is giving many a reason to relocate and Uzbekistan is an attractive option for many people and their families. Truss wants to lend a helping hand where we can. We put together this helpful Uzbekistan relocation FAQ that answers a lot of the migration questions we were seeing from our friends and coworkers. If you're a developer, be sure to check the bottom of this post to see how Truss can help you more directly.
Uzbekistan Migration and Visitor FAQ
Question: Do you need a visa to enter Uzbekistan?
Answer: Uzbek law gives Russians, Ukrainians, and Belarusians 60 days before a visa is required.
Q: Do you need a valid passport to enter Uzbekistan?
A: Yes, your passport needs to remain valid throughout your trip.
Q: Do I need to register with Immigration services? 
A: You will need to register with Emehmon to stay in Uzbekistan. Hotels will handle this registration for you and provide you with a registration slip. Your hotel should renew your registration every three days. However, if you are not staying in a hotel, you will need to handle this registration yourself through www.emehmon.uz. Airbnb guests will also have to manually register.
Q: Do you have to declare any money you bring into Uzbekistan?
A: Each person can bring up to $6,400 with them without declaring it. Amounts above that will have to be declared.
Q: Is COVID-19 testing required in order to travel to Uzbekistan?
A: Yes, you must have a negative PCR test taken within 48 hours of departure. Without a negative test, you may not be allowed to check-in at your local airport.
Q: Do you have to register your cell phone in Uzbekistan?
A: You have 30 days from your first network usage to register your SIM card if you plan to stay in the country. When purchasing a SIM card, ensure that the retailer marks non-resident in the system. You must manually register at the head office of Uzimei or with the Main Post Office. This will cost 54,000 UZS or about $4.90 for registration and you will need your passport. The Uzimei call center phone number is 1170.
Q: What language is spoken in Uzbekistan?
A: Uzbek is the state language. However, Uzbekistan is home to over 1 million native Russian speakers and it's estimated that nearly a third of the country can speak Russian fluently. In Uzbekistan you have the legal right to choose the language of education and training. People who speak Russian will not have a problem with:
• Finding schools and kindergartens
• Ordering in restaurants
• Finding Russian language local news outlets and blogs
• Communicating in state institutions
• Working with banks
• Communicating with taxi drivers
Q: How much does an apartment cost in Uzbekistan?
A: Apartment prices can range anywhere from $350 to $1,200 depending on location, size, and age.
Q: How to find an apartment in Uzbekistan
A: You can search for an apartment through a realtor though they will generally take a 50% commission. Alternatively, you can use Olx.uz or Uybor.uz to find an apartment.
Q: Do people use cash in Uzbekistan?
A: Non-cash payment is very popular currently in Uzbekistan. It's easy to open a local card or a Visa/Mastercard, but once again you will need a passport. Popular banks that you can consider using include Orient Finance Bank, Kapital Bank, Ipak Yuli Bank, and Tenge Bank. If you prefer a digital bank, then consider TBC or Anorbank.
Q: Are there coworking spaces in Uzbekistan?
A: In Tashkent there are a number of coworking spaces including Hub Module, Impact, ground zero, UWork, and cspace.
Q: How much does a coworking space cost in Uzbekistan?
A: The price of a coworking space varies but typically states at $100
How Truss Can Help Developers Relocate to Uzbekistan
At Truss, we are actively working with our partners both in the United States and abroad to provide relief for those impacted by this crisis. We can help companies relocate their workforce to Uzbekistan. Truss can also assist developers looking to relocate to Uzbekistan from affected regions.
For More Information, please reach out to Julia
Phone: +1 573.822.0562
Email: INFO@HIRETRUSS.COM
Telegram: https://telegram.me/uflinc
.schema-faq-section{ padding-bottom: 25px; }